Back to Hannah Ruddle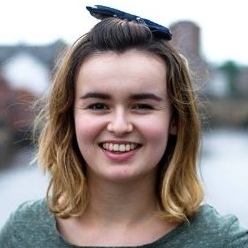 Hannah Ruddle
Director
Sheffield
Freelancer - Available Soon
---
Profile
Who they are
I'm a director of both documentary and fiction and my latest short, 'In Defence of Sinning' is online through Channel 4's Random Acts Strand My most recent documentary ' Our Ghosts' has recently been accepted into the BAFTA qualifying London Short Film Festival.
My most recent role was a Junior Researcher, and in my spare time I work on directing my own short films, as well as compiling script reports.
As a director I believe the relationships are paramount into creating the most insightful and powerful film possible. I love a good stories that are bold, surprising and insightful. I'm also partial to dog photos.
Where they are from
Work history
Production Assistant
Media Works NZ
Junior Researcher
Meridian Line Films
Production Assistant
Dark Angel Productions
Youth Jury Co-Ordinator
Sheffield Doc/Fest
Education
Film and Television Production - BSC 2.1
University of York
Where they are going
Admin
Company pages they manage
Not a manager of any company pages.
Hii-Fives
No users have Hii-Fived this profile.
Testimonials
This user has no testimonials from the Hiive community.